Ajay Rastogi
Village Majkhali, Uttarakhand, India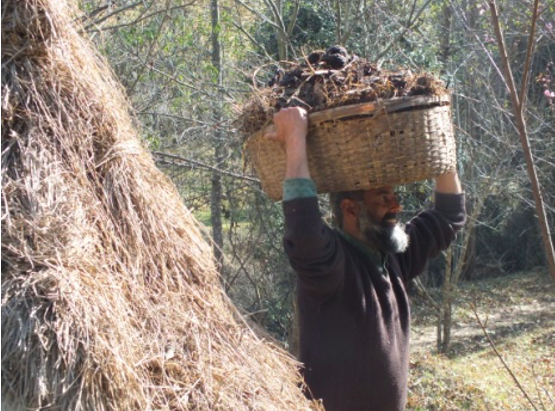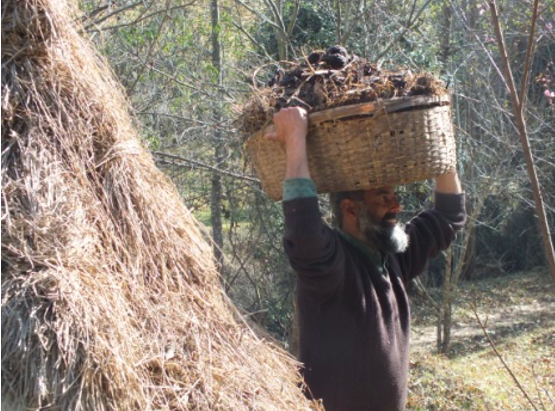 Clad in white Khadi Kurta Pajama a distinguished man with long flowing beard was sitting on an indefinite fast on the bank of Bhagirathi in 1994. He was demanding a thorough review of Tehri Dam project. It was the 34rth day already and the news was spreading fast. I was working in an environmental organization in Delhi and the youth network of INTACH was mobilizing people to go to Tehri together with Medha Patkar ji, the leader of Narmada Bachao Andolan. Almost 30 of us took the night bus to Tehri with her. It was amazing to see the health and zeal of Sunder Lal ji as he filled all of us with ecological, geological, cultural, social, historical, economical and spiritual insights into why the Tehri Dam should not be built the way it has been conceived and planned.
Having studied environmental science in college when the EPA (Environmental Protection Act, 1986) had just come out; I could feel that the explanations Sunder Lal ji gave were much more comprehensive than any scholarly literature could provide at that time. Filled with awe and inspiration, we sat through the night on the river bank and spent another couple of days witnessing his routine. His prayers, deep seated belief in human goodness, natural curiosity, universal values of human dignity and sovereignty. This was the first shake up on how university education is giving us an impression of 'knowledge' which has been incubated in silos. Obviously, the EIA (Environment Impact Assessment Guidelines, 1988) that came as a follow up to EPA were far too removed from the complexity that Sunder Lal ji talked about.
A restless heart of a young environment activist was further unsettled…it was a futile life in Delhi so it seemed. I requested for a job somewhere far and remote, and my office fortunately was starting a conservation programme in Arunachal Pradesh. So, soon enough my wife and I were living in Itanagar. As the luck would have it, the Arunachal unit of Himalaya Sewa Sangh, a network of the Gandhian institutions was close by and many Gandhians from across the country had gathered for an annual convention. There we met more women and men who wore simple khadi clothes and knew much more about their place say it be about water resources, forests, weaving clothes, rearing honeybees and cattle or growing crops. They went about in hand spun cotton clothes, talked in local lingua-franca, laughed a lot and ate simple meals. They didn't have any airs about the Padma Shri/Padma Vibhushan, several of them were national awardees, and the recognition seemed only incidental unlike our graduate events of passing out from college where we feel the pride that now we know, how to change the world or perhaps to find out what is wrong with the world in the first place.
Many a times, the accessories become more important: proper shoes, dress, computer, phone, office etiquettes and the likes. These people just went around in ordinary sandals/chappals without much pride. Hobnobbing with them came with a natural ease of access, their eagerness to share life experiences and an easy laughter were another dose of reform that perhaps we need in the echelons of educational institutions where 'degrees' sometimes are treated with more respect than the 'humane aspect of practical wisdom'.
Having settled down in Arunachal, it was time to reach out to the communities to work with. The first encounter was with an Apatani farmer. She was in her paddy field apparently weeding and selectively removing only some plants, and of certain age even within the same species of a weed. Prior to studying Environmental sciences, I had graduated in Agriculture and immediately my instinct to share the knowledge with her that she should keep the whole field clean, devoid of anything but paddy arose. However, with the language barrier between us, I was forced to keep patience. It was only after we reached the Kasturba Ashram in Zero, that I could raise the question to a hindi speaking sister, simply clad in a white khadi saree. The explanation was vivid with details on how many uses those 'weed' plants have not just as food for humans but in harbouring and nourishing other species that in turn are nurturing creatures up the food chain all the way to fish and to birds of prey.
She was not just a farmer, she was a steward of the local ecosystem. It was not just a lesson in landscape or watershed science or a theoretical lesson in agro-ecology requiring modeling and more experimentation on crop mixtures. She had inherited the wisdom and worked with a natural flare and grace. Going back to her simple bamboo dwelling, perched on stilts; recycling practically all the household water and food. No green labels, no responsible business awards or carbon credits; who cares in a simple and rich daily life. In the agriculture degree, 30 years ago I don't remember being talked about indigenous knowledge systems or 'bio-cultural agriculture' respectfully. Though, there is some difference now, with acknowledgement for these and other organic systems, but the mindset of care is yet not a part of our natural resource education.
So, how much to unlearn, what to retain and how much to reform in ourselves and the institutions that galore, is a deep question. What we learn from these few examples is often shoved off as small scale or alternate. 30 years later, I am not so convinced anymore that what was taught as mainstream should anymore be considered so. I have had the fortune of meeting and learning from some of those who cared less about how much change they can bring about but lived their traditionally rich lives and also those who changed their life to 'be the change'.
Sunder Lal ji left his body 2 weeks ago on May 21, 2021. He has faded away but an era of extraordinary accomplishments and changes brought about through simplicity and force of self conviction would perhaps remain and hopefully consolidate in future. There are many more like him and wonder when we would be able to bring that 'transformative education' in our institutions of learning. I am fortunate to live in a village, close to Lakshmi Ashram in Kausani where Radha Behn in her 80s is still going strong in helping young girls flourish, despite her ailing health now. It would be a real loss for the youth in college and out of college not to have had the experience of meeting and getting inspired from many such people spread across in every community and country.
How many universities equip us to deal with local issues and incorporate the traditions that may have positive potential in pretty much every subject? How many agricultural scientists are able to break through silos to make a self regenerative paddy field and see it as a part of the ecosystem? Above all are we able to instill pride in being happy in a simple and rich life where deep wisdom, love and optimism is deceptively hidden behind seemingly ordinary ways and means.